Posts for tag: dentures
By Dental Associates of Cumberland
March 13, 2019
Want to ask your Cumberland, RI, family dentist about dental crowns and bridges as a cosmetic dentistry procedure?
Do you have missing teeth? Are you worried about and are worried about replacing them with mismatched appliances? If so, then here's the solution! Just wait and hear what they have to say about dental crowns and bridges from Dr. Angeles Felix at her Cumberland, RI, office.
Crowns
According to the American College of Prosthodontists, crowns are the most common restorative procedure; crowns are meant to restore aesthetically unpleasant teeth and provide strength for weak teeth.
Crowns are a cosmetic procedure used in covering chips, cracks, and discolorations found on teeth, which may be due to injuries when playing sports or poor dental hygiene, among other reasons of course. Crowns are also placed over fillings that may be dislocated, which, again, adds reinforcement to your teeth and makes biting and chewing functions easier. Using crowns to cover restorative procedures, like a root canal or dental implants, protects and strengthens your teeth.
Bridges
Bridges come in different types:
Fixed partial dentures, which are bond to already existing teeth, or implants. The natural-looking dental appliance is semi-permanent and replaces missing teeth. They're also easily cleaned. All you need to do is remove them to clean them thoroughly.
Another type is fixed dental bridge, it can't be removed. Other types of fixed dental bridges include conventional fixed bridges, cantilever bridges, and resin-bonded bridges.
Advantages of Bridges and Crowns
Both procedures are custom-made and barely noticeable.
Dental crowns are used for attaching bridges, covering an existing filling that may be dislocated and covering stained teeth. Crowns reinforce teeth to help with withstanding various degrees of pressure, meaning you can enjoy eating without the worry of ruining your tooth.
Bridges restore the natural contour, or shape, of teeth, fix bite issues, and are an economically-friendly restoration.
Consultation
If you have any questions or concerns about dental crowns and bridges or any other cosmetic dentistry procedures, just call your Cumberland, RI, doctor at (401) 723-0350 today!
By Dental Associates of Cumberland
April 20, 2013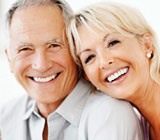 Edentulism — the complete loss of all the permanent teeth — is a condition that affects over one-quarter of all Americans over the age of 65. For many seniors, it can be a devastating blow to their confidence and self-image. Worse, if left untreated, it may lead to nutritional problems, periodontal disease, and bone loss.
Fortunately, an affordable, time-tested treatment option is available: full denture prosthetics, or false teeth. Denture technology has changed over time, but one aspect of the process remains the same: making a superior set of dentures requires an equal blend of science and art.
To replicate the look of a patient's natural teeth, a dentist must make many choices: What size should the new teeth be? How much of them should show above the gum line? How should they be spaced? Photographs of the patient before tooth loss can help in making the decisions. We will use these, combined with clinical acumen and an artist's eye, to achieve the best aesthetic results.
But dentures not only simulate the teeth and gums they replace — they also help support the facial skeleton and the soft tissues of the lips and cheeks. Balancing the muscular forces of the jaws and tongue, they help restore natural functions like speech and eating. In order to perform these tasks properly, it is essential that they be well crafted.
At each stage of their progress, from temporary wax rims through the hard plastic resins of the final product, the dentures are carefully custom-fitted to the contours of the patient's mouth. Their bite must be balanced, meaning that upper and lower dentures come together to properly stabilize each other. This ensures that they will be comfortable to wear and will function properly.
Most people have only minor issues as they make the adjustment to wearing dentures; but for some, it's more troublesome. There are various options available to those patients, including implant-supported hybrid dentures. We can recommend alternatives based on your individual needs and preferences.
If you would like more information about dentures, please contact us or schedule an appointment for a consultation. You can also learn more about this topic by reading the Dear Doctor magazine article "Removable Full Dentures."