Posts for: April, 2014
By Dental Associates of Cumberland
April 17, 2014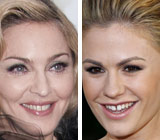 One's a singer who made her name playing New York clubs in the 1980's before catapulting to international pop stardom; the other's an actress from New Zealand who, in 1994, at the age of 11, became the second-youngest person ever to win an Academy Award. Both remain at the top of the A-list today. What other feature do Madonna and Anna Paquin have in common?
You guessed it — it's their teeth. Both have a small but noticeable gap between their two front teeth, known as a diastema. This condition is relatively common, and it's normally easy to treat — if that's something you'd like to do. But wait a moment… In certain African countries, this kind of smile is considered a sign of fertility; in France, they call it "dents du bonheur" (lucky teeth); some other cultures consider the gap a predictor of future wealth. So if you've already made this look work for you, there's no need to change it — even if you might need other cosmetic dental work.
The "perfectly imperfect" smile has become an increasingly popular option for people having veneers, cosmetic bonding, or even dental implants. Some trend-watchers have even noted a pushback against the ideal of a completely even, flawless, Hollywood-white smile. Does that create a problem at the dentist's office?
Absolutely not! We call the process of figuring out how your teeth should look "smile design" — and it's as much an art as a science. When we're just beginning to design your smile, we look at a number of features — including the size, shape, color and alignment of your teeth, the position of your lips, the amount of gums exposed, and the relationship between your smile and your other facial features. We're also listening carefully to you: what you like and don't like about your smile, how you think it could be improved… and what should stay just the way it is.
Of course, before doing any cosmetic work, we will always perform a complete dental exam to detect any underlying condition and determine what treatments are best. Then, we will work with you to help you get the smile you've always wanted. Not sure exactly how it will look when it's all done? Ask us for a preview — from computer-generated pictures to actual 3-D models, we can show you how your new smile will enhance your appearance.
So if your smile needs a little help to look its best — but you still want it to be uniquely yours — maybe now is the time to come in and see us. If you would like more information on smile design, please contact us or schedule an appointment for a consultation. You can learn more in the Dear Doctor articles "The Impact of a Smile Makeover" and "Beautiful Smiles by Design."
By Dental Associates of Cumberland
April 02, 2014
Regardless of culture, the smile is a universal gesture of friendship and openness, and an important communication tool in your social and career relationships. But what if you're not comfortable with your smile because of misaligned, damaged or missing teeth? That could have a dampening effect on your interactions with people and your own self-confidence.
Cosmetic dentistry can change all that — we have an arsenal of treatments that can rejuvenate your smile. We must first, though, develop a design plan, often involving multiple dental disciplines. It will definitely involve you — your desires, expectations and choices.
It begins with a thought-provoking discussion with our office. Generalities — "I want a beautiful smile" — aren't enough. Effective planning begins with a clear perspective about your teeth: What do you like or dislike about them? If you could change anything, what would it be? These initial discussions help us specify your expectations.
While the initial discussion envisions the future, the next step focuses on the present — the current condition of your teeth, mouth and entire facial structure. This requires a comprehensive examination to identify any health issues like tooth decay, periodontal gum disease or bone loss. We must also take in the "big picture," like the shape of your face, out-of-balance features (asymmetries), skin complexion, eye shape and color, or the form and posture of your lips.
Considering all these factors, we then develop a treatment plan with specifics on how to achieve the desired transformation. We will offer our prognosis for what we believe is achievable and maintainable for your specific situation. Here we provide various models, perhaps even including computer simulation, to depict your future smile. In the end, we create a workable plan that meets both reality and your expectations.
With the design plan completed, we can then harness all the techniques and materials available to achieve it. These range from less invasive procedures like whitening, tooth reshaping, cosmetic bonding or porcelain veneers, to more involved restorations like crowns, bridgework or dental implants. In some cases, orthodontics may be necessary to correct bad bites or other malformations of your oral structures.
Smile design ensures we're employing the right techniques for your particular situation. It all serves the end goal — a new smile that can transform your life.
If you would like more information on smile design, please contact us or schedule an appointment for a consultation. You can also learn more about this topic by reading the Dear Doctor magazine article "Beautiful Smiles by Design."