Posts for: January, 2014
By Dental Associates of Cumberland
January 23, 2014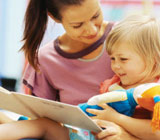 Dentists have been saying for years that it helps to see children as early as possible — ideally, around the time they reach one year old. Just recently, an evidence-based study was released that backs this up: It shows that starting dental visits prior to age one actually reduces the cost of oral health care, and helps ensure that kids have pleasant dental experiences in the future.
Why do young children need to go to the dentist if they only have one or two teeth (and they're baby teeth, to boot)? For one thing, those early dental visits get a child used to the new sights and sounds of the office: the big chair, the shiny equipment, and the friendly staff who will be taking care of them. And even at this tender age, it's not too soon to check for signs of decay, make sure gums are healthy, and show everyone the best techniques for keeping up good oral hygiene in a growing mouth.
Still, it's natural for a child to be a little nervous before an office visit. (Even grown-ups have been known to show some anxiety at the dental office from time to time.) To ease their way through, there are several techniques you can borrow from behavioral psychology to help make the experience as stress-free as possible.
First… just relax. Remember that kids quickly pick up on non-verbal cues that tell them something's wrong — so try and stay positive, and keep smiling. You should prepare the little ones for what's coming — but not too much information, please! We go to great efforts to make children feel safe and comfortable in our care, and we can tell them all they need to know in age-appropriate terms. In fact, most of your child's first dental visit may consist of a show-and-tell about what we do and what tools we use.
Another thing to keep in mind is that parents are the major role models for their children, both in and out of the home. Kids naturally follow along — in both good and bad ways. If parents take good care of their own teeth, it helps kids develop good oral hygiene habits too. That includes brushing and flossing regularly, limiting sugary snacks between meals, and avoiding non-nutritious drinks — not only sodas, but also so-called "sports" and "energy" drinks, which can be extremely high in sugar and caffeine.
Of course, regular visits to the dentist should also be a part of every adult's oral hygiene program. If your child sees you relaxing in the chair, it's much easier for them to do it too. And that's good for everybody's health.
If you would like more information about children's dental visits, please call our office to schedule a consultation. You can learn more in the Dear Doctor magazine article "Taking the Stress Out of Dentistry for Kids."
By Dental Associates of Cumberland
January 08, 2014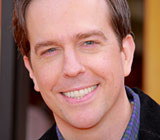 The lengths that some comedians will go to for a laugh! Actor Ed Helms, as dentist Stu Price, pulled out his own tooth in the movie The Hangover. Or did he? Turns out Helms really is missing a tooth, which never grew in. When he was in his late teens, he received a dental implant to make his smile look completely natural.
Helms told People magazine he wasn't exactly eager to remove the implant crown that had served him so well for almost 20 years, but there was no better way to do the famous tooth-pulling scene.
"We started to do different tests with prosthetics and blacking it out and nothing worked," Helms told the magazine. Helms' dentist said it would be okay to take the implant crown out. "My dentist was really into it," Helms said. The rest is movie history!
Congenitally missing ("con" – together with; "genital" – relating to birth) teeth are inherited and actually quite common. More than 20% of people lack one or more wisdom teeth, for example. These would not usually be replaced if missing (in fact, wisdom teeth are often removed) but it's a more serious issue when the missing tooth is in the front of the mouth — and not just for aesthetic reasons.
When a particular type of tooth is missing, it disrupts the pattern and function of the teeth. If left alone, sometimes the existing teeth will shift to close the gap. It's like removing a brick from an arch — the rest of the bricks would fall together in a different formation (or collapse entirely). And when upper and lower teeth don't come together properly, they can't function well.
The best treatment for this type of situation is the one Ed Helms had: a dental implant. They look and function like real teeth and do not attach to or damage adjacent teeth as other tooth-replacement options might.
It is important that a child with a congenitally missing tooth wait until jaw growth is complete — different for every person but usually in the late teens — before getting an implant. Otherwise, the artificial tooth might eventually appear too short when the person has stopped growing. In the meantime, there are temporary tooth replacements that can be made.
If you would like more information about options for congenitally missing teeth, please contact us or schedule an appointment for a consultation. You can learn more by reading the Dear Doctor magazine article "When Permanent Teeth Don't Grow." Dear Doctor also has more on "Teenagers & Dental Implants."