Posts for: December, 2012
By Dental Associates of Cumberland
December 19, 2012
When you begin a smile makeover in our office, you are embarking on an exciting partnership with my laboratory technician and me. You should be full of excitement and anticipation — if you have been dissatisfied with your current smile, and you have great expectations for the results of this project. You will really like what you see in your mirror.
Being completely satisfied with your new look depends upon successful communication — between you and me and also between my dental lab technician and me. As you might expect, your perceptions of how your teeth appear are different from a dentist's perceptions. My education leads me to think of factors that untrained individuals probably won't consider, such as crown (tooth) length, midlines (how the teeth line up with other facial features) and the distance from gum to lip.
It is helpful to be able to describe what you like and don't like about your current smile, and what changes you would like to see. Using visual aids is a good idea. Bring photos and magazine illustrations to show what you have in mind. (Remember that we cannot make you look exactly like a celebrity or anyone else. The pictures are guidelines.)
Things to think about:
The color, size, shape, alignment and spacing of your teeth.
How much of your teeth and gum tissues show when your lips are relaxed and when you smile.
Tooth color: bright "Hollywood" white or more natural looking off-white.
Your makeover is more likely to meet your expectations if you get an advanced view of the results. Computer imaging is one way to do this. Another is for us to make a mock-up of the proposed dental work in tooth-colored wax on models of your mouth.
Finally, a "Provisional Restoration" can be used as a test to make sure that what I envision is also what you, the patient, want to see. A provisional restoration, made from temporary materials, gives you a chance to test out the changes and make sure they work for you — that they not only look good, but they are also functional in terms of biting, chewing, speech, and gum health.
If the provisional restoration works, it is used as a blueprint to make durable and long lasting porcelains in the same design. We will take impressions of the provisional restoration and communicate the relevant information to a dental laboratory technician, who will make the final porcelain tooth replicas for your new smile.
Competent communication and a provisional restoration will put you on track to meet your expectations and obtain the most aesthetic and functional result in your Smile Makeover.
Contact us today to schedule an appointment to discuss your questions about Smile Makeovers. You can also learn more by reading the Dear Doctor magazine article "Great Expectations — Perceptions in Smile Design."
By Dental Associates of Cumberland
December 04, 2012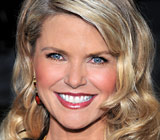 Supermodel Christie Brinkley has a one-in-a-million smile, but she is just one of millions who have benefited from today's preferred tooth-replacement technique: the dental implant. In a wide-ranging interview, Brinkley told Dear Doctor magazine about a helicopter accident she suffered while back-country skiing.
"I fractured two molars in the back of my mouth and I had to get two dental implants," Brinkley told the magazine. "I am grateful for the dental implant technology that feels and looks so natural."
You might think it serves little purpose to replace a missing back tooth that was barely visible in your smile to begin with — especially if you don't spend a lot of time posing for magazine covers. But this is actually not the case. Your molars are extremely important for chewing and even for maintaining a more youthful appearance.
Dentists generally agree that losing posterior (back) teeth can have many consequences for the remaining teeth and their surrounding structures, i.e., bone and gums. If back teeth are missing, the front teeth end up bearing more stress than they were built for. And there are certain things that happen when any tooth is lost, whether front or back, that can affect function and appearance.
For one thing, when a tooth is lost the adjacent teeth tend to drift into the empty space or tip towards it. This can adversely affect your bite. Too much shifting can render a tooth basically useless and also leave it more vulnerable to gum disease.
Another complication is the loss of tooth-supporting bone that inevitably occurs when teeth are lost. When a tooth comes out, the bone under it actually begins to melt away. Since back teeth support the vertical dimension of the face, their loss can cause what's known as "bite collapse" — a reduction in facial height that becomes increasingly noticeable over time and can make you look older.
A dental implant can prevent all of these things, while providing you with a replacement that looks and feels just like the tooth you lost.
If you are interested in learning more about implants, please contact us or schedule an appointment for a consultation. If you would like to read Dear Doctor's entire interview with Christie Brinkley, please see "The Secret Behind Christie Brinkley's Supermodel Smile." Dear Doctor magazine also has more on "Replacing Back Teeth."