Posts for: May, 2012
By Dental Associates of Cumberland
May 26, 2012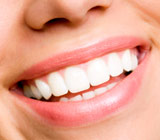 Humans naturally react with pleasure to a beautiful smile. Starting with our mother's joy at seeing our first smile, we have learned throughout our lives that a smile is an invitation to a positive interaction. But are some smiles more beautiful than others? What is it that makes a smile beautiful?
As with art and music, people's perceptions of beauty differ with their backgrounds and culture. Most people respond well to an appearance of healthy teeth and gums. Some feel that teeth must be very white and bright, while others look for even alignment and proportionally sized teeth. With today's dentistry, all of these factors can be changed and enhanced.
Let's look at the components of a smile, starting with the teeth. Evenly sized, white teeth are generally considered to be the basis of an attractive smile. Chipped or discolored front teeth can be repaired by bonding tooth-colored composite resin restorations. Thin porcelain veneers can be applied to teeth that are too small, misshapen or discolored. Tooth colored fillings can be used to repair damaged or decayed back teeth, or porcelain crowns may be used to replace the top part of a tooth that has been seriously damaged. If teeth are missing because of trauma or loss due to decay, today they can be replaced by dental implants, topped with crowns that are colored and shaped exactly like the natural teeth.
Of course, if your teeth emerge from inflamed, infected gums, your smile needs improvement. Healthy teeth and gums result from good dental hygiene habits and regular professional dental cleanings and checkups. Teeth can be whitened and brightened both through home methods and in the dental office. Ask us about the options available for tooth whitening.
Another factor that goes into a smile is the relation of the upper to the lower jaw, or the bite. A poor bite is called a malocclusion. Orthodontic treatment, with the use of traditional braces or clear aligners, can move the teeth into a better bite position so that they look and function better.
Repairing parts of your smile that make you feel self conscious will help your smile in more ways than one. If you feel good about yourself, you look better. We get the process started, and you do the rest.
Contact us today to schedule an appointment to discuss your questions about cosmetic dentistry. You can also learn more by reading the Dear Doctor magazine article "Cosmetic Dentistry: A time for change."
By Dental Associates of Cumberland
May 11, 2012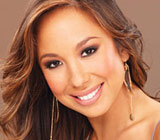 Growing up with a dentist stepdad, Cheryl Burke of Dancing with the Stars heard a lot over the years about the importance of good oral hygiene — in particular, the benefits of using dental floss.
"My dad would say, 'make sure you floss,' but I never really listened to him. I was very, very stubborn," Cheryl told Dear Doctor magazine recently in an exclusive interview. Cheryl admits this stubbornness took its toll, in the form of tooth decay. "I definitely had my share of cavities," Cheryl recalled.
Cavities can form when food particles, particularly sugar and carbohydrates, are not effectively cleaned from the spaces between teeth. These particles are then broken down by bacteria naturally present in the mouth, resulting in the production of acids that attack the tooth enamel.
When she reached her twenties, Cheryl decided she really needed to step up her oral hygiene and cultivate an asset so important to a professional dancer: a beautiful smile. And once she did, cavities became a distant memory.
"I think when you do floss frequently, it helps to reduce the chances of getting cavities," Cheryl said. "It took me a while to figure it out." Now Cheryl flosses after every meal. "I carry floss with me wherever I go. I have no shame busting out my floss in the middle of a restaurant!" She declared.
Dental decay is actually a worldwide epidemic, especially among kids. Untreated, it can lead to pain, tooth loss, and, because it is an infectious disease, it may even have more serious systemic (whole body) health consequences. The good thing is that it is entirely preventable through good oral hygiene at home and regular professional cleanings here at the office.
If it has been a while since you or your children have seen us for a cleaning and check-up, or you just want to learn more about preventing tooth decay, please contact us to schedule an appointment for a consultation. If you would like to read Dear Doctor's entire interview with Cheryl Burke, please see "Cheryl Burke." Dear Doctor also has more on "Tooth Decay: The World's Oldest & Most Widespread Disease."